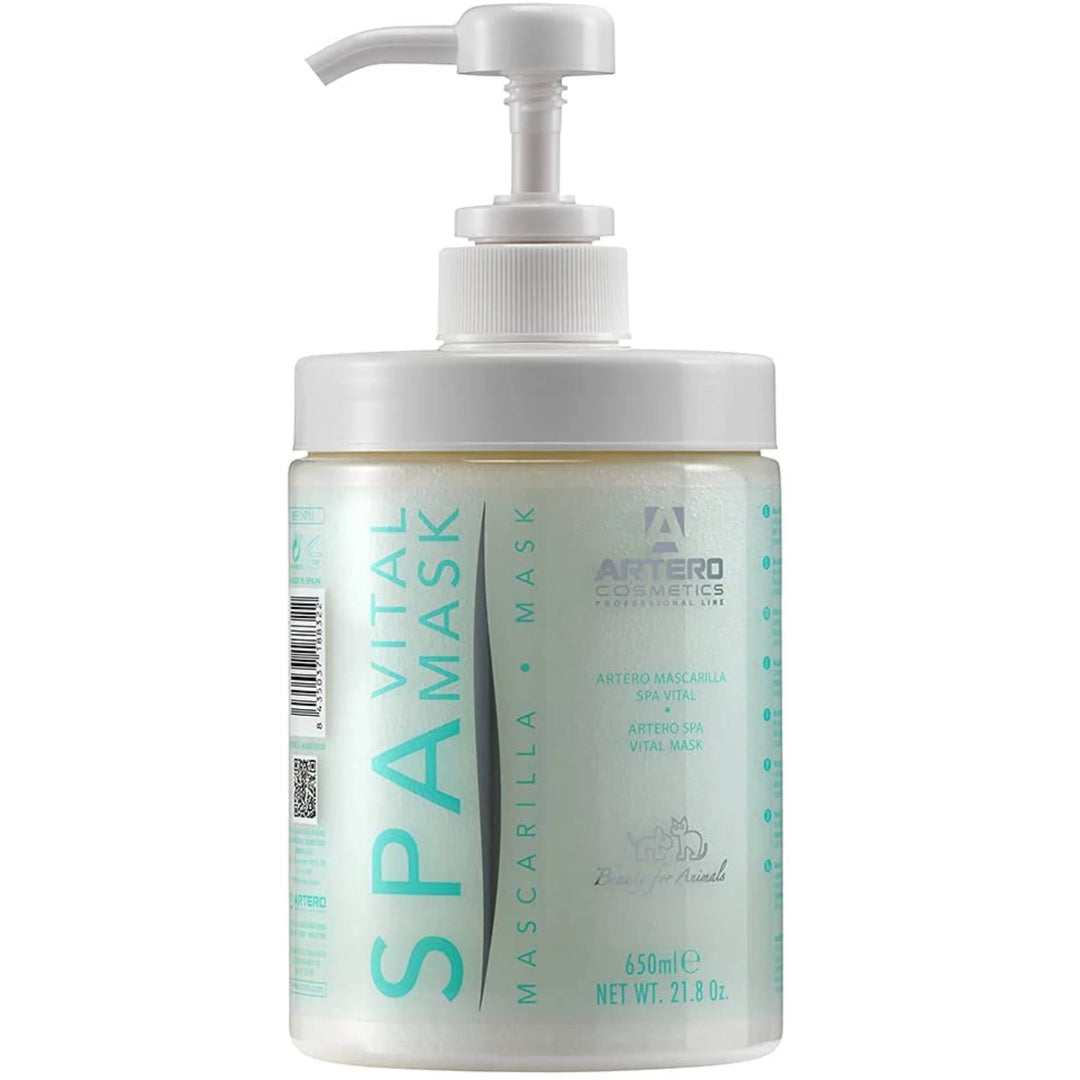 Artero Spa Vital Mask 22.5 oz.
Artero Spa Vital Mask for dogs and cats, formulated with Aloe Vera and Rose Hip.
Features
Unique moisturizing, repairing, anti-inflammatory with healing results.
Quick absorption.
Pulsation dispenser.
Helps detangle and knot removal.
Recovers hair health and elasticity, giving a youthful and vigorous appearance to the hair.
Natural ingredients.
Can be applied on dry or wet hair.
Suitable for all breeds of dogs and cats.
Package: 22.5 oz.
For external use only.
Directions For Use
The application and dosage method will vary depending on the hair condition.
Apply SPA Vital after shampooing.
Apply to hair from root to tip.
Leave on for 3 to 5 minutes.
Comb to distribute evenly and rinse with plenty of water or leave on without rinsing.
Contains, among other ingredients:
Rose Hip Seed Oil: keeps the skin well nourished, providing elasticity, in addition to reducing redness, irritation and itching.
Aloe Vera: refreshes and repairs the skin.
Vitamin Complex Enriched with Proteins: maintains the natural balance to the skin and creates a protective barrier against toxins.
Important:
Our Artero Cosmetics do not contain mink oil.
Artero is an environmentally friendly company, therefore, in addition to caring for the skin and hair of our pets, we also care for the well-being and environment around us, respecting the environment with our aluminum and/or PE or PET C plastic packaging to our Artero Cosmetics and Artero Complements line.
Help us complete the chain by properly recycling used packaging.
Buy with Confidence: 100% Artero Guarantee.
Artero is a Spanish company with over 100 years of experience in the professional dog grooming world.