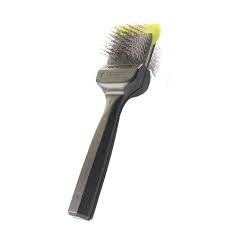 Les Pooch Brush – Single
Simply the Best Brush for Course, Thick, Thick-Curly and Double Coated Dogs
Maintaining a beautiful coat on course, thick, thick-curly, and double coated breeds may seem quite daunting. Double coated dogs can be particularly troublesome, as they have a harsh top coat, but soft, dense undercoat. The unique design and breakthrough technology of the Pro Brush (F/F) brushes grooming fears away. Its firm, but flexible, head and carefully designed bristle shape and placement allow you to contour the body and brush deep down, gently gliding through fur from skin to tip. This pro brush tackles tough mats with ease and provides for superb undercoat removal.
To help you determine if the Pro Brush (F/F) is the right brush for your pet, we've put together a list of breeds we typically recommend this product for; However, coats of the same breed may differ.